google.com, pub-4369500551042693, DIRECT, f08c47fec0942fa0
Unfortunately Google Play Services Has Stopped – Fix Now
Facing this annoying error pop-up again and again in your Android Device? Want to Fix it Permanently? Let's do it, here are working fixes or solutions on the error Unfortunately Google Play Services Has Stopped.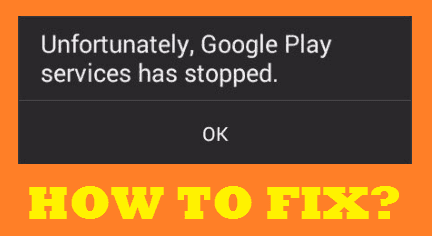 Most of the Android Phone users face this error frequently. This annoys a lot since Google Play Services is an important service app of any Android Device and if it starts showing errors and that too repeatedly then it means a lot. It affects your Device Performance, doesn't allow a lot of other apps to run or operate, it also affects your flow of using the app or thing you were doing and even irritates the user due to its annoying behaviour that is popping up again and again. Well, so here we are comprising you a bunch of working solutions to permanently remove or fix the Google Play Services Error Popping Up as Unfortunately Google Play Services Has Stopped. The solutions are really very straightforward and easy to follow. You will not require downloading any additional tool or software to fix this error.
Cause of "Unfortunately Google Play Services Has Stopped" Error?
Well, "Unfortunately Google Play Services Has Stopped" is one of the most common errors faced by Android Phone users. This error occurs when you mess up with Android System Settings or try hard to change the things which your phone fails handling. Don't panic because this is a common error which can be solved instantly or within few minutes even without using any additional app or tool. Let's check out the ways or methods to bypass this error.
How to Fix Unfortunately Google Play Services Has Stopped Error?
Here are the working methods or solutions to fix android's annoying error Unfortunately Google Play Services Has Stopped. Almost all of the methods work so you may give a try on any of them. If you still find it difficult to solve then try other solutions as well. We will keep updating this Guide regularly with new methods to solve this issue or update the existing ones with changes, if any. Now just take your Android Device in which you are encountering this Google Play Services Error and get ready to apply this fixes.
Let's check each solution one by one with the way to implement it. 🙂
1. Clear Google Play Services Cache
Sometimes, "Unfortunately, Google Play Services Has Stopped" error occurs when there's an issue with Google Play Services Caches. What about Clearing its caches? Let's do it. Just follow the steps given below.
Step 1: Open Settings on your Android Phone or Tablet.
Step 2: Head over to Apps Settings or App Manager. (the name may differ from phone to phone, just know that we are about to change the Settings of App)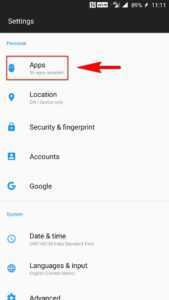 Step 3: You will see the list of Installed Apps. Make sure the list is showing All the Apps. Under the list, scroll and find Google Play Services App. Tap on it.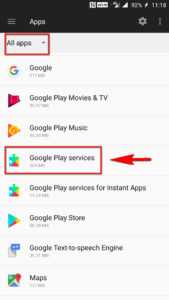 Step 4: Locate Clear Cache option and click on it. If you don't find that option then just click on Storage option and there you will get CLEAR CACHE option for sure. Click on it to Clear Google Play Services App Caches.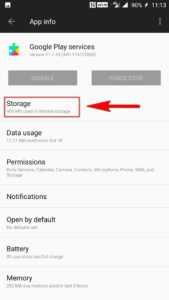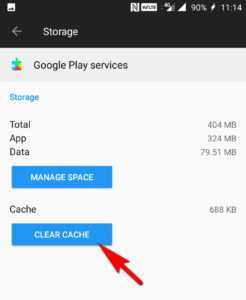 Step 5: That's it. Now just Restart your Device to make the changes effective.
Most probably, the rude error popping up as Unfortunately Google Play Services Has Stopped is injured.
If you still face the error then don't panic at all because we have got more methods to resolve. Just try next solution.
RECOMMENDED – How to Stop Service Host Local System from Using Up All the Computer Resources?
---
2. Clear Google Services Framework Cache
Once again, the Google Play Service Error cause may be due to Caches of Google Services Framework. Let's try clearing Caches of this App or Service. There's no harm in doing so. Clearing Caches will just clear the preferences and not any other important data. Just follow the steps given below.
Note: The Steps goes same as we saw in above solutions i.e., Clearing Caches of Google Play Services App. Let's recall quickly.
Step 1: Open your Phone's Settings.
Step 2: Goto Apps Manager and Under All Apps list, locate and tap on Google Services Framework App.
Step 3: On the Settings Display of this App, first, click on Force Stop and then select Clear Caches (can be also found under Storage>>Clear Cache).
Step 4: Once you flush the caches, restart (reboot) your Device to make sure the changes are effective on your phone or tablet. Now try using the App you wanted to use.
This method will probably solve the Google Play Services App Error. Hope it works for you. If not, then no issues, follow the next method. 😉
---
3. Reset App Preferences
If you still see Unfortunately Google Play Services Has Stopped error then the next method to try would be this. We would Suggest you try Resetting App Preferences and this may work out of the box! Let's see the steps.
Step 1: Once again, Open your Phone's Settings and Head over to Applications Manager.
Step 2: Now, look out for Reset App Preferences Option on the same screen. It may be situated anywhere, check the top three dots at the right side, or at the bottom bar. Since the UI changes from Device to Device, this option may be available anywhere but will be in this section (Apps Manager) itself. Once you find this option, click on it.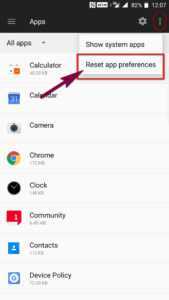 Step 3: Confirm the Permission to RESET APPS. That's it. Now just restart your Phone so that the changes are in effect.
Note: Resetting App Preferences will not clean any of the app data.
This was the simplest solution which may surprise you with results. it may work Out of the Box!!
---
CHECK OUT SOLUTIONS TO OTHER COMMON GOOGLE CHROME ERRORS:
---
Final Words…
Here we listed Best Working Methods to Fix Google Play Services Error mainly named as Unfortunately Google Play Services Has Stopped. Hope this Guide helps you tackle the Google Play Services Error. If you have got any other working solutions then just jot them down in the comments and help other fellow readers. We may also add your Piece in this Guide if it's really Helpful. Thank you! 🙂