google.com, pub-4369500551042693, DIRECT, f08c47fec0942fa0
Steam is undoubtedly a very famous platform for playing and buying video games. But, recently some of the users are facing a very frustrating errors. Whenever users log in to Steam it tries connecting friend's network but fails in doing that. Instead, it shows Friends Network Unreachable Error message or steam can't connect to friends network. Now, because of this error users are not able to access their friends list (steam friends list not working). If you are also facing this issue then don't worry. In this article we will discuss How to Quickly and Easily Fix Steam Friends Network Unreachable Error.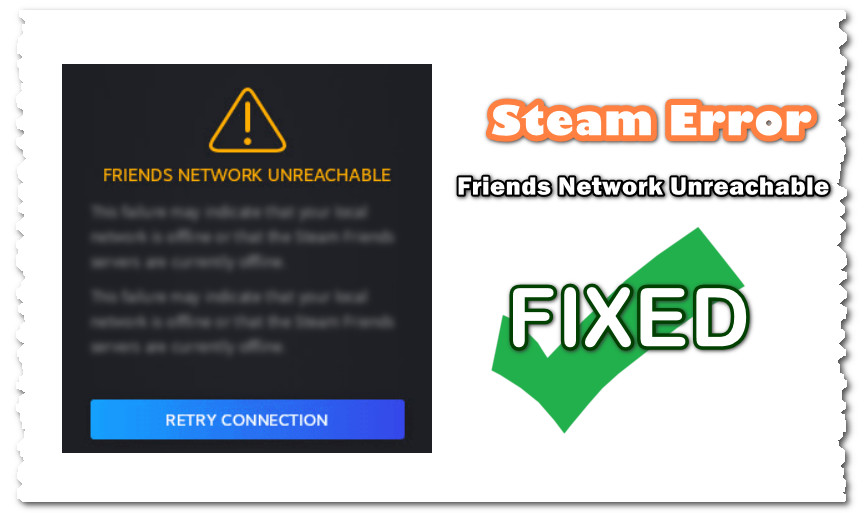 Reasons For Steam Friends Network Unreachable Error
Now, there is not any particular reason for this error. But, we have noticed some common reasons which are causing this error. See, it might seem a little bit silly but, if you have a slow internet connection then you might be facing this issue. Corrupted Cache Files can also cause a lot of load on your steam due to which you see Steam Friends Servers are currently offline message. Now, if you are using the Beta Version of Steam then that can also be the reason for this error. Because Beta Versions are not properly completed and there are also bugs in it. We have told you the causes and now, it's time for the Solutions.
Method 1 – Simple Fixes for Steam Friends Network Unreachable Error
Before we dive into complicated solutions let us tell you some simple ones. First, Restart your computer and see if it resolves this issue. You can also Restart Steam and check if you are connected to the Internet properly or not. We hope that these simple solutions might have fixed this error and friend list on steam might get loaded. On the other hand if you are still facing the issue then follow the solutions given below.
CHECKOUT – How to Fix No Audio Output Device is Installed Error in Windows?
Method 2 – Change Your Steam's Properties
Changing your Steam's Properties can also resolve the Steam Friends Network Unreachable Error. Follow the steps given below:
On the Desktop you will find the Steam Shortcut. Right click on it and select Properties.
On the Target field, you need to add or append -nofriendsui and click on Apply and then OK.
The final target field would look like: "C:\Program Files (x86)\Steam\Steam.exe" –nofriendsui (See the image given below)
Now, check if you are able to see your friends list.
If still you are not able to see the list then in the Target Field add –nofriendsui -nochatui and then simply hit the Apply and OK Option.
Now, the Steam Settings have been changed.
See, if you still seeing this error or not.
If still you are facing the Error then try the next solution.
---
Method 3 – Delete Cache and Cookies On Your Steam
As told before Cache and Cookies which are stored on your Steam web browser might get corrupted. Because of these corrupted Cache and Cookies you might be seeing the Steam Friends Severs are currently offline message.
Launch Steam in your computer.
On the top Tool Bar click on Steam. Then from the drop-down menu hit the Settings Option.
From the left hand side select the Web Browser Option.
Now, you need to hit the Delete Web Browser Cache and also Delete all Web Browser Cookies Options.
All your web browser cache and cookies should get deleted. Now, hopefully you won't see the Steam Friends Network Unreachable.
If still your problem is not solved follow the next solution.
CHECKOUT – Top 10 Methods to Fix PUBG Mobile Lag in Gameloop Emulator
---
Method 4 – Exit Steam Beta Version
You will definitely face this issue if you are using the Beta Version of Steam. Hence, we recommend you to Exit the Beta Version. The best part here is that Steam has the option to exit the beta mode. Follow the steps given below:
First, you need to Launch the Steam Client.
Then simply log into your Account.
From the upper left corner hit the Steam Option.
Then click on Settings.
From the Account Section click the Change button which is available under the beta participation heading.
Now, you need to select the NONE-Opt out of all beta programs.
Hit the OK Option in order to save the Settings.
Once you ext the Beta Mode of the Client you won't be receiving any Beta Updates.
Now, most probably you won't be seeing the Steam Friends Network Unreachable Error.
---
Method 5 – Check Your Internet Connection
You won't be seeing your friends list if your Internet Connection is not working properly. Make sure you have a fast internet connection. You can also try restarting your modem and router. To do this simply turn off your device. Then completely unplug all the network devices (modem and router) and then replug. Then see if your Steam Friends Network Unreachable is fixed or not. You can even switch to VPN Connection in order to get Fast Gaming Speeds and Downloads. If this also doesn't work then try to change the internet connection, try mobile network and see if it works.
CHECKOUT – How to Use PS4 Controller on PC?
---
Concluding…
In most of the cases restarting your Internet Connection or restarting steam or your computer solved the Steam Friends Network Unreachable Error. We have researched a lot and have mentioned the best solutions so that you can start enjoying the gaming with Steam again. Checkout Video TDR Failure Error Fix. We hope that this article for beneficial for you and if you know any other solutions then do mention here. In this way you would be helping other people.