google.com, pub-4369500551042693, DIRECT, f08c47fec0942fa0
Users of Windows 10 are facing a VIDEO_TDR_FAILURE (atikmpag.sys) Blue Screen Error when they try to play a video file, game or anything related to video output on your system. Your computer might be restarting after showing this error to fix this issue but it never really gets resolved. Blue Screen Errors are very common in Windows and it is very frustrating for users. Depending upon the brand of the graphics card the error name varies.
For NVIDIA graphics card the error name is VIDEO_TDR_FAILURE nvlddmkm.sys
For Intel graphics card the error shows up as VIDEO_TDR_FAILURE igdkmd64.sys
On the other hand for AMD or ATI graphics card users are seeing this message VIDEO_TDR_FAILURE atikmpag.sys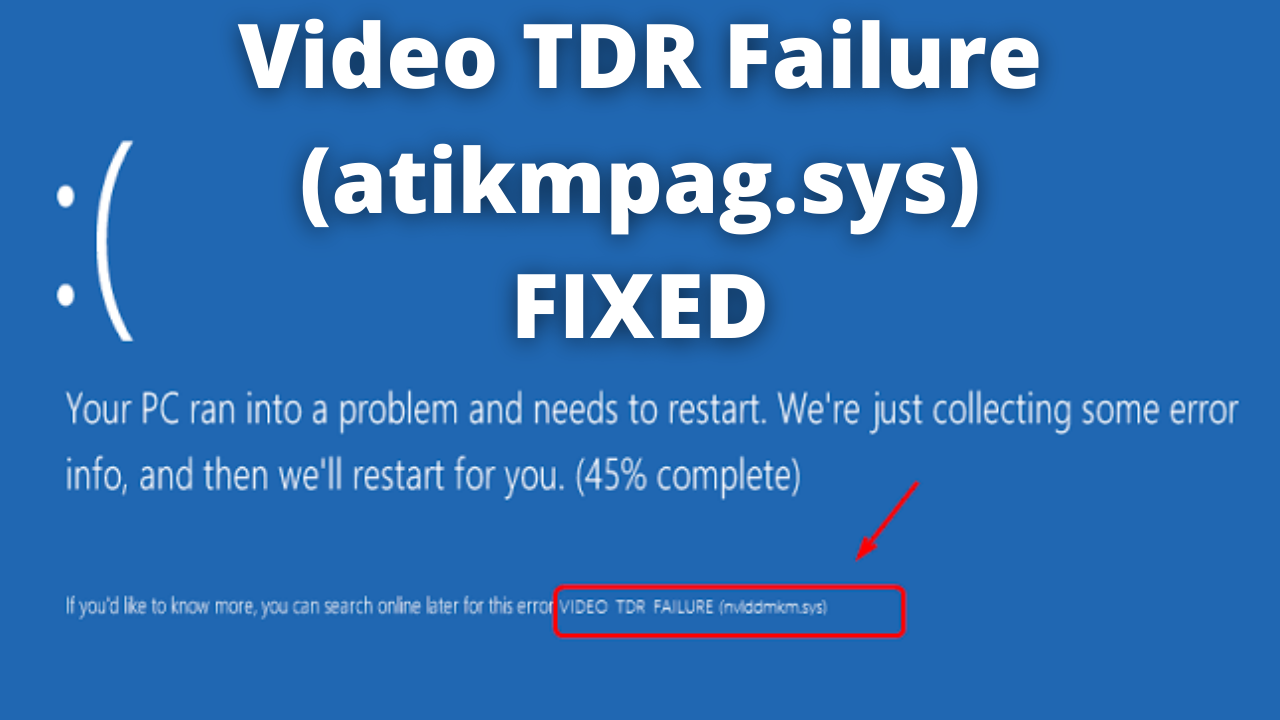 If you are also facing this issue then you have visited the right place. In this article we will tell you How to fix the Video TDR Failure (atikmpag.sys) on Windows 10. This is the error dealing with Graphics card and drivers which is related to similar error known as IRQL_NOT_LESS_OR_EQUAL.
What is the Meaning of TDR in Windows 10?
The full form of TDR is Timeout, Detection, and Recovery. It is basically a component of Windows. Whenever your Graphics card stops responding you will receive this error and Windows will stop and show you this Blue Screen Error in order to resolve this issue or avoid further damage due to the error.
Causes of VIDEO_TDR_FAILURE
The main cause of this error is usually the Outdated graphics card driver or any kind of issue with your graphics card. Too many applications running in the background can also cause this issue. System overheating or Overclocked components can also be causing this Video TDR Failure error. Most importantly there can also be some other reasons for this Problem. There is no fixed reasons for this issue and but most of the time the main reason of this problem is issues with your Graphics Drivers or chipset. So just follow the solutions mentioned below one by one to fix Video TDR Failure (atikmpag.sys) error.
Method 1 – Update or Reinstall your Graphics Drivers
Many users said that updating or reinstalling their Graphics Drivers fixed this issue. So, this is the first thing you should do to quickly resolve this issue. Follow the steps given below:
On your keyboard press the Windows Key and then press R. This would open the Run Application.
On the Run Application type the following command devmgmt.msc and hit Enter.
The Device Manager will now open.
You will see the Display adaptors option. Click on the arrow besides it to expand.
In order to update your Driver's Right Click on it and choose the Update Driver option.
If you want to uninstall it instead then choose the Uninstall Driver option.
After uninstalling it hop over to the over to the manufacturer's website. You can search on Google about your Graphics Card.
Restart your computer and see if this has resolved your issue. If not follow the other  solutions given below.
SIMILAR ERROR SOLUTION – How to Easily Fix "Video Scheduler Internal Error" in Windows?
---
Method 2 – Replace atikmpag.sys or atikmdag.sys File (for ATI or AMD graphics card users)
If you have tried the above method but, still you are facing the problem then you should try replacing atikmpag.sys or atikmdag.sys File. To do this follow the steps given below:
First you need to download the  latest version of ATI/AMD graphics card driver. You can do this by visiting the Manufacturer's Website or by using Driver Easy.
Driver Easy is free application which will automatically detect your outdated drivers and will download the latest ones.
Open file explorer and visit directory C:\Windows\System32\drivers and locate the atikmdag.sys (or atikmpag.sys) file.
Now, you need to rename the file as atikmdag.sys.old (or atikmpag.sys.old).
Most importantly, change only the one listed in your blue screen error.
Then hop over to ATI directory (Usually in C:\ATI). There you need to find the file which is named as file atikmdag.sy_ or atikmpag.sy_
Copy that file and paste it on your Desktop.
If you are not able to find the file in this Folder then you can type the name of the file into the Windows Search Bar and find it.
Press the Windows Logo Key. Type cmd and open the Command Prompt.
Change the current directory in command prompt to your Desktop by typing chdir desktop and press Enter.
Type expand.exe atikmdag.sy_ atikmdag.sys
You can also type

expand -r atikmdag.sy_ atikmdag.sys

From your Desktop copy the new atikmdag.sys file to C:\Windows\System32\Drivers.
Restart your computer and see if you still see the message.
CHECKOUT – How to Fix "Unexpected Store Exception" Error in Windows?
---
Method 3 – Change your Power Management Settings
Maybe your Power Settings are causing issues on how your computer handles your graphics. You can fix the video tdr failure atikmpag.sys error by following the steps given below:
Type Control Panel in your Windows Search Bar.
Now, you need to change the View mode to Category.
Then simply go to to Hardware and Sound then Power Options.
You will see Advanced Power Settings Link. Click on it.
Expand the PCI Express. Now, you need to turn off Link State Power Management.
Hit Apply and then Restart your computer.
KNOWLEDGE BASE – How to Setup and Use Miracast on Windows 10 PC for Screen Mirroring?
Concluding…
We hope that one of the Solutions must have helped you in resolving the Video TDR Failure Error in your Windows. Follow all the steps properly and don't do anything else because you may damage your computer more. If you have got any other working fix for the error then feel free to share in the comments below and we would love to mention it in the guide along with your name. Thank you!