Many people use 3rd Party Antivirus Solutions to keep their computer safe. Recently, Antivirus Solutions of many users detected a threat named FileRepMalware. AVG and Avast are the two Antivirus Suites who have detected this threat. This issue has been seen on Windows 7, 8 and 10. If you have a lot of questions regarding this FileRepMalware threat then don't worry. In this article we will tell you What is FileRepMalware and How to Remove it?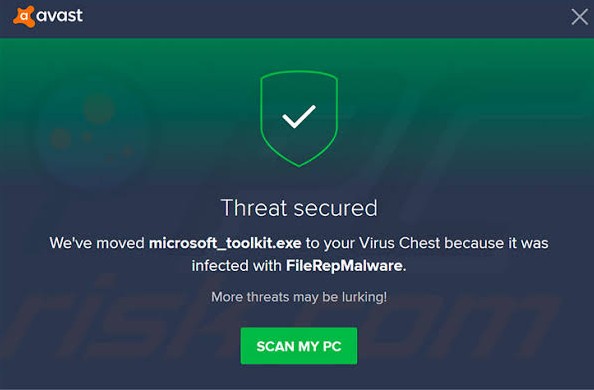 What is FileRepMalware?
FileRepMalware is a tag that Antivirus Software give to files which have low reputation scores. KMSPICO tool is the most common victim of this tag. KMSPICO tool basically is a 3rd Party tool which allows the user's to activate Windows without purchasing the OS. Apart from this tool the Antivirus will assign this tag to any file or application which seems to be suspicious. And sometimes Antivirus software may get false alarm of such files and might alot them FileRepMalware threat as a false tag.
How Does An Antivirus Assign The FileRepMalware Tag To Other Files?
As told before in the article the Antivirus will assign the tag on the basis of low reputation score. Now, let's understand how Antivirus Software decides the low reputation score of different applications.
A low reputation score is assigned when the application has not been downloaded by many users.
If the application hasn't been added to the Antivirus Cleanset yet then also the low score is assigned.
If the Antivirus finds that application is not signed by any publisher or if the signature seems to fake then also the low reputation score is assigned to the application.
Most of the time files with low reputation scores are usually a virus or malware. See, you need to understand that FileRepMalware is not a very dangerous malware. It is only capable of installing adware on your computer. It has no trojan capabilities.
CHECKOUT – How to Completely Remove Avast SafePrice Extension from Any Browser?
How To Check If The Threat Is Real Or Fake?
Before we tell you how you can remove it you need to first check if the threat is real or fake. We have an excellent online tool to help you out with this situation. Follow the steps given below.
Method 1 – Use VirusTotal Tool
VirusTotal is a free online tool through which you can identify if the files on your computer are safe or dangerous. Through this you can easily check if the file which has the FileRepMalware Tag are safe or not. To do this follow the steps given below:
On your Antivirus Page right click on the file and select open/check its location option.
Now you need to open the VirusTotal Website.
Simply select the option Choose file.
Upload the suspicious file and the tool will automatically tell you the safety status of the file.
If the threat is real follow the methods given below in order to remove it.
ALSO CHECK – How to Remove or Uninstall Avast SafeZone Browser Completely?
How to Remove FileRepMalware?
In order to Remove FileRepMalware we highly recommend you to use Malwarebytes Software. It is an excellent security scanner which can be used for free. Download and follow the steps given below:
First you need to Launch your computer in Safe Mode.
To do this Restart your computer.
Then on the Sign-In Screen you need to select Power' > 'Restart' while holding down the Shift key.
 Your system will restart again.
But, this time you will see more options. Simply follow this pattern: Troubleshoot' > 'Advanced options' > 'Startup Settings' > 'Restart.
Your computer will Restart again and now you will see the Safe Boot Option.
Hold down F4 or 4 key on your keyboard to boot into Safe Mode.
Hold down F5 or 5 key in your keyboard to boot in Safe Mode with Internet Access.
Now, you have entered the Safe Mode. Launch Malwarebytes Software.
The software will start checking for updates.
Once it has finished the process of checking updates Hit the Scan Option and Choose Custom Scan.
You need to check mark on all the boxes.
Then simply select the your Drives from the right hand side.
Hit the Scan Now option.
After the Scan is completed you will see all the malwares on your computer.
Remove all the malwares which are listed and then Reboot into Normal Mode.
Your computer is safe now.
Knowledge Wiki – What is Werfault.exe and How to fix it?
Things To Do If The Threat Is Not Real
After using VirusTotal tool if you get to know that the FileRepMalware threat is not real then you need to update your Antivirus Application. Once you update your Antivirus Applications you won't see the tag again. If you still see the tag then it's better to change the Antivirus Solution that you are currently using. Instead use the built-in Security suite or Firewall in Windows, Windows Defender.
Concluding…
As you can see FileRepMalware Tag is not something to get afraid of as you can easily remove it from your system. First, check if the malware is real or not because many times AVG and Avast detect false tags. If the threat is real follow the Solutions which we have mentioned in this article. We hope that this article for beneficial for you.