google.com, pub-4369500551042693, DIRECT, f08c47fec0942fa0
Let's get to know what is Werfault.exe and how to fix it. Before getting into the fix, we should know what is Werfault.exe and what are its main functions in windows.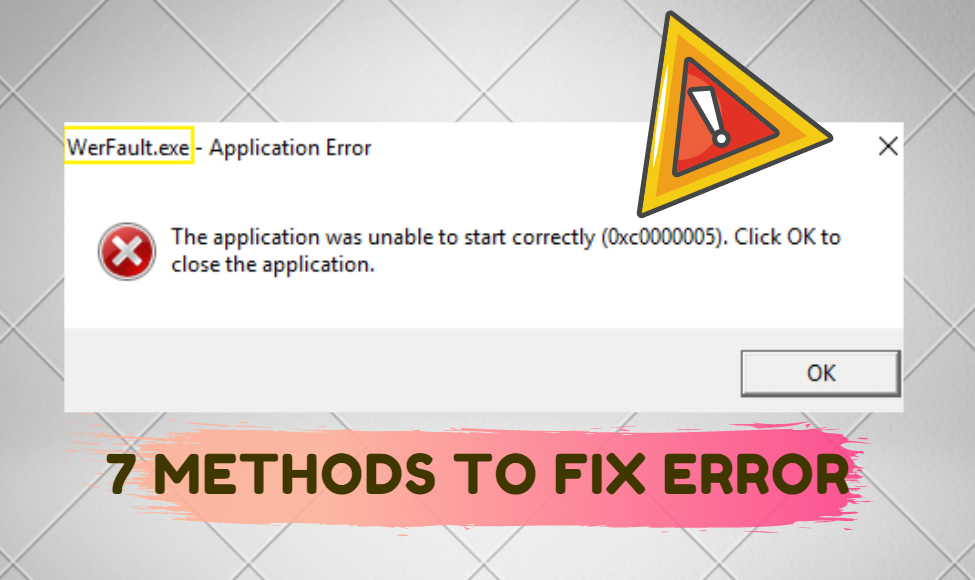 What is WERFAULT.EXE?
The WerFault.exe file is an integrated Windows Error reporting process in Windows 10, main work of this process is to report various errors regarding various applications to Microsoft. It collects all the information about the problem which your applications are encountering and automatically looks for a permanent fix. 
There are certain problems which are faced due to Windows Error reporting WerFault.exe, some of those major errors are –
.exe failed.
.exe not found.
Can't find Werfault.exe.
.exe application error.
.exe has encountered a problem and needs to close. We are sorry for the inconvenience.
.exe is not running.
When WerFault.exe fails to correctly solve the application's error, you will get WerFault.exe – Application Error. 
How to Fix WerFault.exe Error in Windows 10?
There are various methods to fix WerFault.exe in windows 10, starting with –
Method 1 – Run System File Checker (SFC Scan)
Windows 10 packs an amazing in-built System File Checker a.k.a SFC scan to eliminate several problems in its system. If any application faces any issue due to incompatibility/misplaced files, SFC scan can do wonders.
Follow the steps below to run SFC scan for WerFault.exe Error:
Press on Windows key and search for CMD.
Right-click the result and select Run as administrator.
In the Command prompt window, type SFC/ scannow and press the Enter key.
Let the command prompt run a scan. Once completed, Windows will notify if there was an issue with the system and corrective measures have been taken or not.
Restart the system.
CHECKOUT – What is Antimalware Service Executable & How to Fix High CPU Usage Issue by it?
---
Method 2 – Trying In-built Antivirus Software (Microsoft Defender)
The main reasons for Errors in WerFault.exe are caused due to viruses and potential threat's in the system. Follow these steps to perform a quick scan using Microsoft Defender:
Press on Windows key and search for Windows Security after that Open the result.
Open Virus & Threat Protection and click on Quick scan. This will let the Microsoft defender perform a quick scan to eliminate any viruses and threats your system has.
YOU MIGHT LIKE – Best iOS Emulators to run iOS or iPhone Apps on Windows PC
---
Method 3 – Use Windows Memory Diagnostic Tool
WerFault.exe Error can also be solved by running the Windows Memory Diagnostic Tool. Follow the steps below Accurately –
Press on Windows key and search for Windows Memory Diagnostic.
Click on the result and run it as an Administrator.
Click Restart now and check for problems. This will instantly reboot the PC and check for problems in the System. It is recommended to Save and close all the applications before restarting the System.
 Let the system restart and repair itself. After the restart, Windows will automatically run the Diagnostic tool and scan the system. If any issues are detected during the process, It will be fixed itself.
ALSO CHECK – Top 5 Methods to Fix Microsoft Compatibility Telemetry High Disk Usage Issue
---
Method 4 – Disabling the Error Reporting Service
Press Win key + R on your keyboard to open the Run tab.
Type services.msc in the Run tab and press the Enter Key.
Find the Windows Error reporting service in the list.
Right-click on Windows Error Reporting Service and click on properties.
Inside the General tab, click under startup type to open the drop-down menu.
Choose startup type as Disabled.
Click on the Apply button.
Press Ok and windows will automatically restart the system for you.
ALSO READ – How to Fix "NVIDIA Installer Failed" Error in Windows 10, 8 or 7?
---
Method 5 – Clean the disk using Disk Clean-up Tool
WerFault.exe application Error can also be caused due to junk stored in the disk of your system. Also, cleaning junk and obsolete files should be in your daily routine for the optimum performance of your system. Here are the steps to clean the disk using Clean-up Tool:
Press on Windows key and search for Disk Clean-up.
Right-click on the result and open the app as an Administrator.
3. Select the Drive in which system operating files are stored ( Generally OS (C:), and click on OK.
 Let the Disk Cleanup scan run, Do not shut down the system while the process is running.
Under the results, Pick the recommended files you want to delete.
Press OK and wait for the process to finish. Depending upon the number of files, it can be a time-consuming process.
BONUS – Trick to Get Netflix Free Trial without Credit Card
---
Method 6 – Updating your Drivers
We recommend you to update the drivers, It can fix WerFault.exe Error as well as it can improve the system's performance. Follow these steps to update the drivers –
Press on Windows key and search for Device Manager.
Click on Device manager to open the tab, This tab display's all of the drivers your system has.
Select a category and right-click the one which you want to update.
Select the option Search automatically for updated driver software.
 Select the result ( The latest driver ) and update it.
READ THIS – How to Fix "Unknown USB Device (Device Descriptor Request Failed)" in Windows?
---
Method 7 – Reinstalling the Drivers
In the search box, enter device manager and click on it to open the tab.
 Select the category and right-click on the name of the device, and select uninstall.
After successfully uninstalling the driver, Restart the System.
Drivers will be automatically Reinstalled after a successful restart.
YOU SHOULD CHECK THIS – How to Completely Remove Avast SafePrice Extension from Any Browser?
Wrapping up…
So these were all the lastest tested working methods to fix WerFault.exe error in your system. We hope that our methods helped you to successfully solve any issues regarding WerFault.exe and it's prompt errors or Windows Error Reporting Service. If you got any other queries or troubles or if you come across and try any other fix then do share them with us in the comments below.