google.com, pub-4369500551042693, DIRECT, f08c47fec0942fa0
How to Setup and Use Miracast on Windows 10 Computer? – So thinking to mirror your Smartphone screen on your Computer? Miracast is the first name which comes in the list for Windows 10 Users specially. If you are on Windows System and trying to mirror Screen from a device to your Computer then Miracast can help you do it. But you landed on this page just to know How to Setup and Start Using Miracast in Windows 10, right? Well, we are here to provide you will all the top notch details, right from Downloading or Setting up Miracast to Start Mirroring your Screens. Let's Proceed.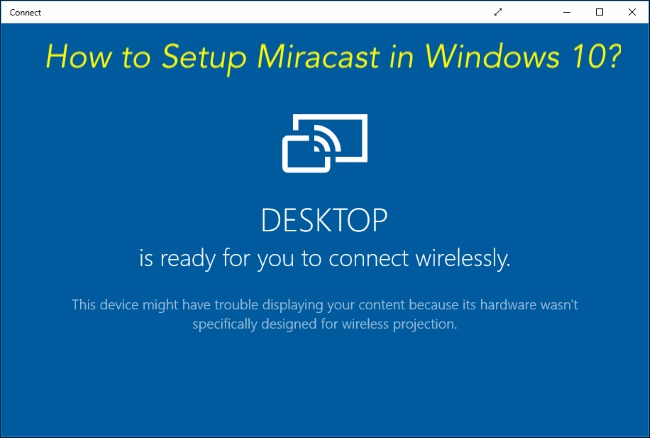 What is Miracast Technology?
Miracast is a screen-mirroring standard which can be simply described as "HDMI over WiFi". Miracast seamlessly replaces the HDMI cables by allowing the devices to discover and communicate to each other and wirelessly mirror the content from the small screen on to a big screen. Unlike the standards like Google Chrome cast (which works only on Android TVs and Chromecast) and Apple AirPlay (works only on Apple TV), Miracast is developed as a cross-platform protocol.
In layman terms, Miracast is a standard which helps you to watch a movie which is being played on your small screen devices like smartphones, tablets, laptops and desktops on a big TV screen with high definition quality video and audio without using HDMI cable. Once your devices synced up using Miracast, you can watch the movies on a bigger screen without any lag. Miracast just mirrors the images and sound from small screens to big screens. It just works as a screen mirroring mechanism exclusively without any other smart functionalities like Chromecast or AirPlay. So, if you are watching a Netflix video you may not be able to do whatever you want to do on your smartphone as everything from the phone mirrors on your TV. Both the receiver device and the sender device must be Miracast certified to stream movies or music from one device to another using Miracast Standard. As of March 2017, there are over 6,500 device models which support Miracast standard according to Wi-Fi Alliance. If your device does not support Miracast standard then you need a Miracast Adapter to be able to stream content to your device.
What are the System Requirements for Miracast?
Here are the requirements for Miracast external display to work fluently for mirroring screens.
Windows 8.1 or Windows 10
WDDM (Windows Display Driver Model) 1.3 with Miracast Standard supported graphics driver.
NDIS (Network Driver Interface Specification) supported Wi-Fi drivers.
Wi-Fi Direct
How to See if your Device and Windows 10 Support Miracast?
Miracast wireless screen mirroring works only when both the sender device and receiver device support Miracast protocol as we mentioned above. Both your TV and Windows 10 PC need to support Miracast technology to be able to screen mirror the content on your computer to your TV. All the latest mid-range to high-end Windows PCs have got the Miracast support. Anyways, follow the below instructions to check if your Windows 10 PC supports Miracast.
Step – 1: Move the cursor to the lower right corner of your computer screen which has got couple of tools. Just click on one that is highlighted in the image below.

Step – 2: It opens Action Center where you'll see Connect option, just click on it.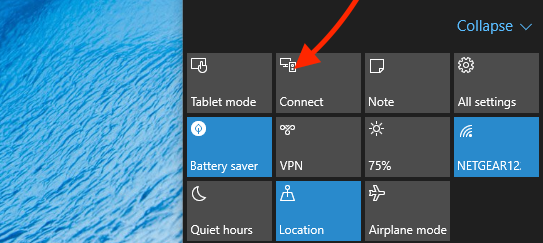 Step 3: If it says "Your PC is ready for you to connect wirelessly" then your computer supports Miracast Technology. If not, it doesn't support.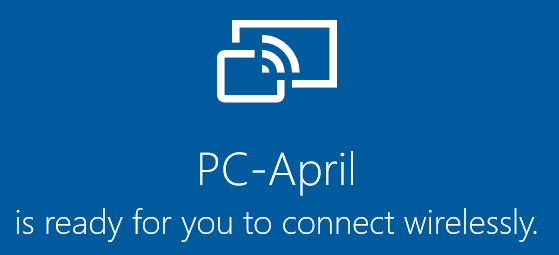 For Checking Miracast Support for Other Devices like Television:
You have to check the user manual to know if your TV supports Miracast Standard. You can also contact the customer support of the manufacturer to inquire if your TV model has got the Miracast support.
CHECKOUT – How to Permanently Fix "DPC Watchdog Violation" Error in Windows?
How to Setup and Use Miracast on Windows 10 PC?
These are the steps you need to follow to Setup or Run Miracast on Microsoft Windows 10 Computer provided your device supports Miracast. Let's suppose that your external display device is a TV in this case.
Step – 1: Switch on your TV. Connect the Miracast external adapter to the HDMI port.
Step – 2: Go to the Start Menu on your Microsoft Windows 10 PC. Go to Settings >> Devices >> Connected Devices.
Step – 3: You see a button called "Add a device". Click on it. Wait for a minute for the Miracast adapter to appear in the device list.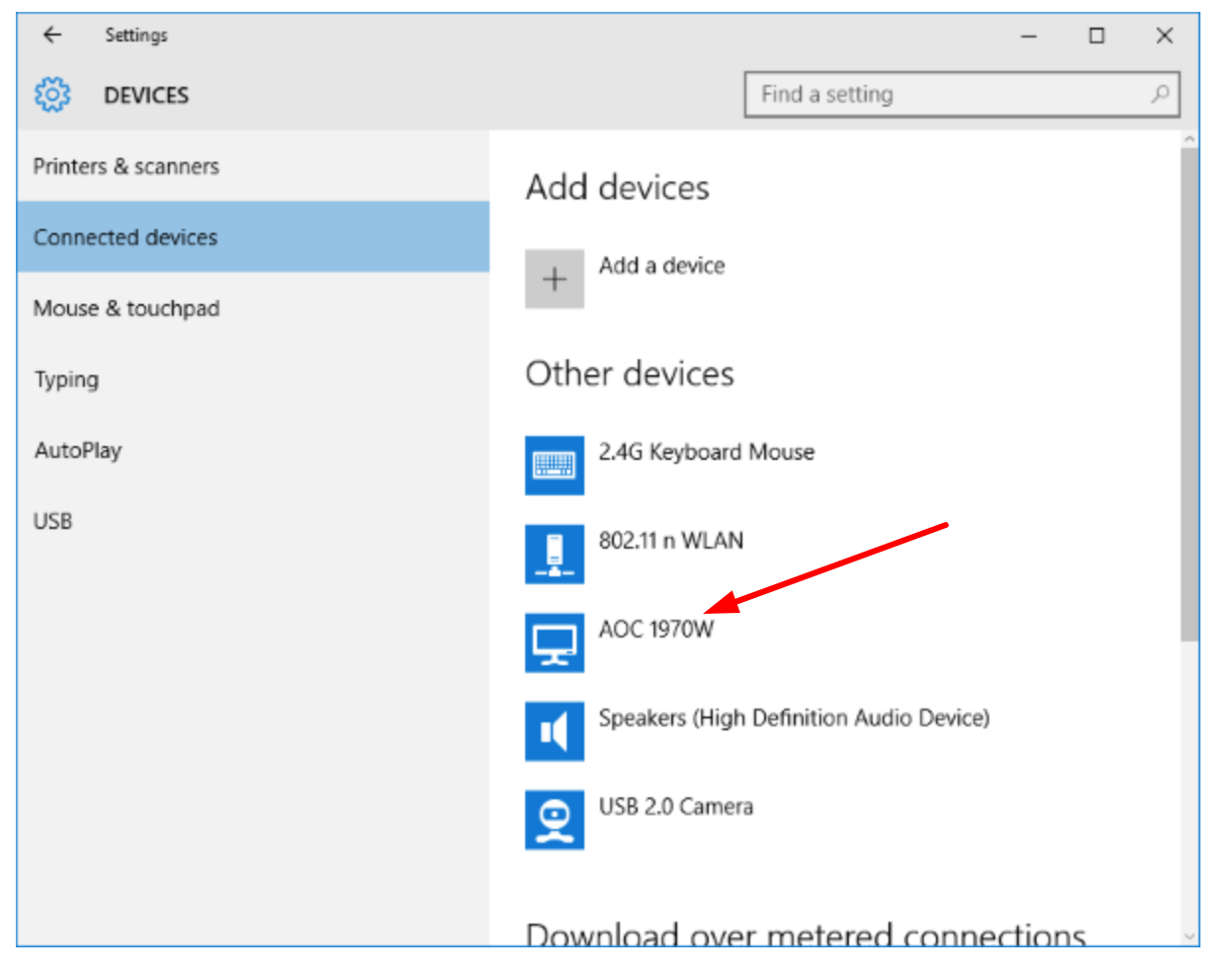 Step – 4: Click on the adapter. Now, you've successfully setup the Miracast wireless streaming on your TV. Whatever content is there on your Windows 10 computer, it streams wirelessly on the TV.
It's extremely simple to Setup or Use Miracast on a Windows 10 Computer. It's as simple as pairing a Bluetooth device to your laptop or mobile phone.
What to do if Miracast is not working on my Windows 10 PC?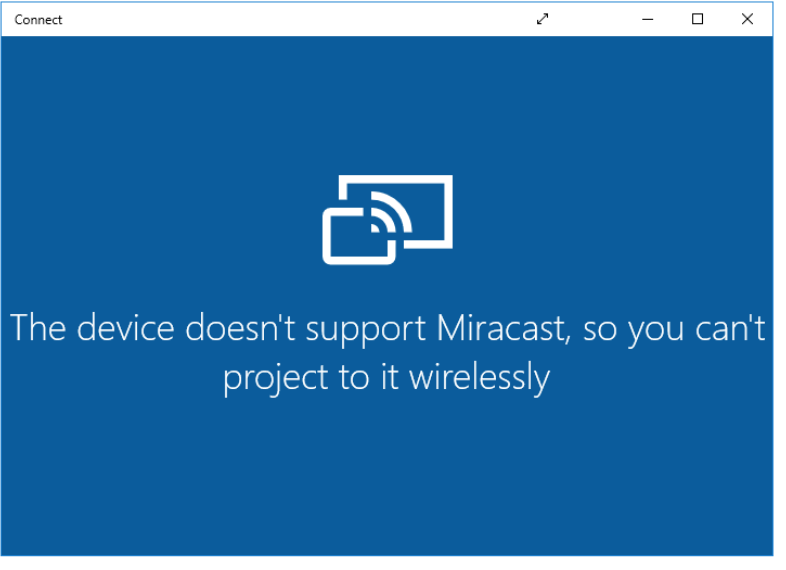 Miracast Protocol is inbuilt in Windows 10 Operating System. It usually works in most cases. But in case if you see that "Your computer does not support Wireless Connectivity or Miracast" or "The device doesn't support Miracast, so you can't project to it wirelessly" error then something is missing on your computer and you need to fix it to use Miracast.
Windows users who upgraded the Operating System from Windows 7 or earlier versions to Windows 8 or Windows 10 usually face this problem. If the Operating System is not a clean installed version of Windows 10, it might not have the inbuilt Miracast support. You need to use a Miracast Adapter to use Miracast on your computer. Microsoft wireless display adapter works great with Windows PCs and helps your computer to use Miracast seamlessly. If in case if you have a clean installed Windows 10 Operating System and still Miracast is not working, then probably there may be some issue with the Wi-fi drivers or the display. Try updating the drivers and check again.
ALSO CHECK – Service Host: Local System Using Up All Your Resources? – Fix Now
How to Download Miracast for Windows 10?
As mentioned before, Miracast is a Technology and not any type of Software which can be remotely transferred or shared. Miracast has got compatibility measures means it is supported in the devices which are upgraded to it's root drivers. So in case, if you find your Windows 10 is not having Miracast Support then that doesn't mean you can Download and Install it. You need to make your system compatible to it by installing the Network Adapters or Graphics Card Drivers. You can read ahead to know if How you can make your System Miracast Compatible by Updating Drivers and Adapters.
Where can I Download Miracast Windows 10 Drivers?
You need updated Wireless and Graphics card drivers in order to run Miracast on Windows 10 computer. So, download the drivers and install them to use Miracast on Windows 10 or 8 System.
Here's how you should download and update Miracast drivers for Windows 10 computer.
Step – 1: Click Start key to Open the Start Menu. Type "Device Manager". Select the "Device Manager" utility from the results.
Step – 2: Go to the category called "Network Adapters" and expand it.
Step – 3: You will see the available Network Adapters. Right click on each of them and select "Update Driver Software.." option.
Step – 4: In next pop-up, select "Search automatically for updated driver software" option and see if Windows finds a new updated driver.
If Windows does not have an updated new driver, you need to go to the manufacturer's website to find the new drivers. Manufacturers like Dell, HP, etc. provide the latest drivers for all their models. Go to the manufacturer's website and download the new drivers. Follow the instructions there to install them on your computer. In most cases, updating the drivers fixes the problem with Miracast on Windows 10.
In case if you are still facing the problem, go to the "Device Manager" again. Expand the category "Network Adapters" and right click on the Network Adapter and select Uninstall to Uninstall the Adapter. Reboot your computer and reinstall the driver. You need to do the same process for updating the graphics  card drivers. You can find the graphics drivers in a category called "Display adapters" in "Device Manager". If you want to do this in a convenient way, there are softwares like Driver Easy, Driver Talent, Slim Drivers, Driver Hive, etc. which can update the Drivers in Windows 10 computers without any hassle. You can give them a shot!
Wrapping up…
Setting up Miracast in Windows 10 is very simple. It just takes a couple of minutes to start wireless screen mirroring using Miracast technology. All the latest Windows computers have got the sufficient hardware and software components which support Miracast. Though Miracast does not have any smart functionalities, it definitely serves as a quick tool for content sharing or projecting. It requires minimal setup and works seamlessly.If you are facing any issues or having problems in following the guide then do comment below. As always, we will be Happy to Help you! Thank you! 🙂