One of the most annoying error which pop-up while trying to install a new software program in the system on Windows 7, 8 or 10. Well, it comes in different forms. Most known and popular form of it is "MSVCP140.dll is missing". This error usually comes when you try to open an application or a game on your PC which requires this file but due to some reason it got deleted and this error message pops up. Here we are listing the ways and methods to fix this error by Installing MSVCP140.dll (Dynamic Link Library).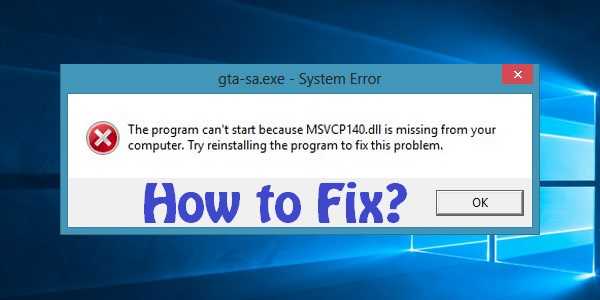 What is MSVCP140.dll?
The msvcp140.dll file is a Microsoft C Runtime Library file. It is located in the System32 folder, having a size of 626KB and is installed by Microsoft Visual Studio. If any DLL file goes missing or gets corrupted, you may encounter such error messages on your screen.
Causes of "MSVCP140.dll Missing" Error
The reason why this error occurs is when the program you are trying to run requires the MSVCP140.dll file to exist on your computer system. In some of the cases, the culprit of this error may be corrupted system files or even malware infection. For example, if the msvcp140.dll file has been deleted, misplaced or corrupted by malicious software present on your PC or a damaged Windows registry. The MSVCP140.dll file is used for various games and programs and if it is missing you have to download it and place it in right folder in order to get rid of the error.
Dynamic Link Libraries OR dll are external parts of applications that run on Windows or any other operating systems. Most applications are not complete in themselves and store code in different files. If there is a need for the code, the related file is loaded into memory and used. If the OS or software is not able to find the concerned DLL file, or if the DLL file is corrupted, you could receive a DLL file is missing message.
You may encounter this error on Windows 7, Windows 8, Windows 10 or even on the lower versions of Windows. Msvcp140.dll Missing Error is reported several times by Dolphin Emulator Users too. So it's common if you are one of those victims. Don't worry. You are very nearer to the victory. 😉
The error message looks like:

The error message can be any one from the given two:
The program can't start because MSVCP140.dll is missing from your computer. Try reinstalling the program to fix this problem.
The code execution cannot proceed because MSVCP140.dll was not found. Reinstalling the application may fix this problem.
If you are one of the victims, facing and getting this error then this article will be of great help to you. Read on to quickly fix this  DLL File Missing Error.
---
MSVCP140.dll is Missing Error Solutions
NOTE: You may face this error in Windows 7, Windows 8 or Windows 10. The listed solutions will work on most of the Operating Systems of Windows. So try them one by one. Do let us know in the comments below about which solution worked for you.
---
Solution 1: Download the Missing .dll File
The very first work-through one should follow is Downloading the Missing File and Placing it in the required folder. So let's download the latest supported version of MSVCP140.dll which is missing as per the software/program you are trying to run or install.
Step – 1: First of all, Open the internet browser and Download MSVCP140.dll Latest Version for your Computer as per the supported bit version.
Download 32-Bit Version File Download 64-Bit Version File
Step – 2: Unzip the Downloaded File and Copy the MSVCP140.dll.
Step – 3: Now open your Computer Files, go to C:\Windows.
Scroll down to the folders System32 and SYSWOW64, those are the folders which need the downloaded DLL files.
For 32 Bit Windows Users, copy your downloaded 32 Bit msvcp140.dll missing file and paste it into the folder System32 and you are done.
For the 64 Bit Windows Users, copy your 32 Bit msvcp140.dll file into the folder SYSWOW64 and the 64 Bit msvcp140.dll file into the System32 folder.
Make sure to paste the right file into the right folder. After a short restart of your PC, the error should not appear anymore.
If this solution does not work, you can try the other solutions too. You don't need to try all of them; just work your way through until your problem is solved.
ALSO CHECK – How to Activate Netflix Free Trial without Credit Card? – [4 Methods]
---
Solution 2: Check for Virus on your System
A virus or malware infection in your system could also stop the .dll file from being detected. Some errors like dll not found or dll is missing, can be generated by the virus-infected system.
Run a complete virus scan for your entire Windows system. This may take some time. Also, Windows Defender alone may not be able to help, so please also try other anti-virus applications, such as Avira, Malwarebytes or Panda. Check out our List of Top Best Free Antivirus for 2018.
After scanning, restart your computer. If your Windows has been detected with malware, follow the instructions by the anti-virus program to fix it. Now, restart your computer and try to launch your program again to see if it works.
---
Solution 3:  Do a Re-installation of the Program
Another solution can be re-installing the Software which is throwing the DLL Files Missing Error. According to the popup error, you can try reinstalling the program to fix MSVCP140.dll is missing. The file may be corrupted when installing the program or might be it's partially installed, but its installation package may include the correct version of this file. So please follow these steps to try re-installing the affected program or software.
Step – 1: Open Settings on your PC and go to Programs and Features.
Step – 2: Right-click the program that gives the error, then click Uninstall. For example, if Skype is giving error then uninstall it.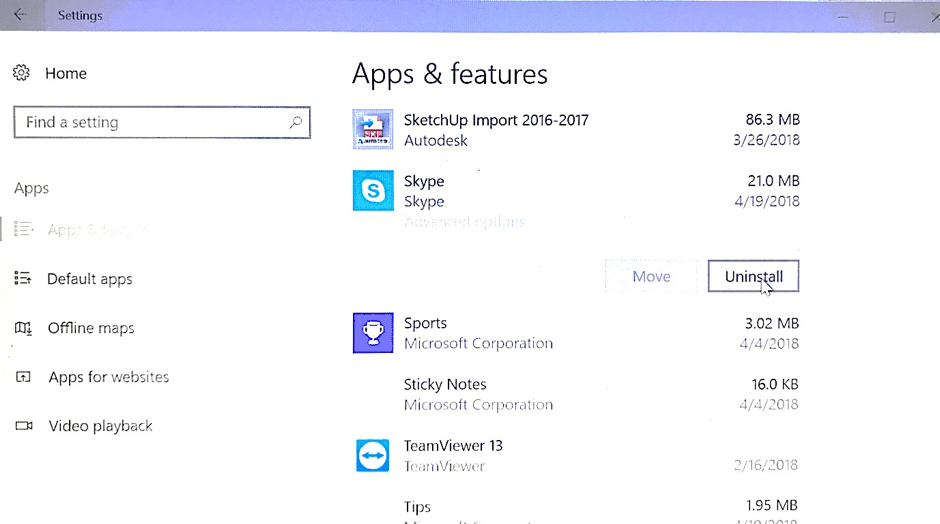 Step – 3: Click UNINSTALL to confirm.

Step – 4: Restart your computer, re-install the program, and open it to see if it works.
Hope the re-installation proceeds without any hurdle.
HELPFUL READ – Download & Install Realtek HD Audio Manager for Windows
---
Solution 4: Update the Drivers on your Computer
The outdated or missing drivers can cause the dll file missing error. you can update your drivers to the latest version to fix it. There are two ways to update drivers: manually and automatically.
Automatically Update Drivers – You can automatically update your drivers with any Driver Software such as Driver Talent or Driver Easy.
Just download and install the Driver Software and run the Scan to check for the missing drivers or problems with the drivers.
Repair or Update the Flagged Drivers or Download the Missing Drivers using the Same Software. That's it. Now just restart your computer and run the program again to see if it works now.
Manually Updating Drivers – You can manually update your drivers through Device Manager in Windows 7, 8 or 10. Open Device Manager on your computer, check the driver status to see if it needs to update, then select Update Device Driver to install the latest driver one by one.
---
Solution 5: Run the Windows System File Check
The System File Checker (SFC) can be a helpful tool in Windows. You can scan for corruptions in the system and repair the corrupted files with SFC. Follow the steps below:
Step – 1: Type cmd in the search bar. Right-click on Command Prompt (If you are using Windows 7, right-click cmd) and Select Run as administrator. Then click Yes to confirm.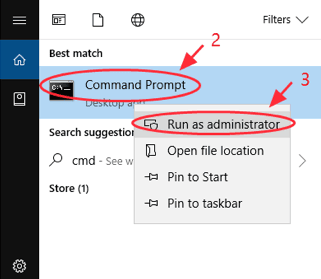 Step – 2: Type sfc /scannow in Command Prompt, and press Enter.

Step – 3: Wait for some time and it will try to automatically fix the detected issues after scanning. When verification is 100% completed, close Command Prompt and try to launch the program that gives the error. Hope this resolves the issue and gives no error.
---
OTHER COMMON ERROR FIXES
---
Wrapping up…
Hope the given fixes or solutions work for you. We had total five Solutions for Msvcp140.dll is missing error for Windows. These were tested solutions which solved the error for me and lots of others too. We will keep looking for other fixes and update here as soon as we come through any. If you have any doubts or want any help then comment below, we would love to Help you out! Thank you!! 🙂