google.com, pub-4369500551042693, DIRECT, f08c47fec0942fa0
What is DPC Watchdog Violation and How to Fix it in Windows 10, Windows 8 or Windows 7? – DPC Watchdog Violation is one of the Blue Screen errors in Windows 8, 8.1 and 10. It shows Blue Screen of Death (BSOD) on the user's screen. The only way to fix this error is to restart your computer. For some users, this error pops up very frequently, which is annoying and disturbs their workflow. Generally, operating systems displays the errors when certain security protocols are not fulfilled in a proper way. DPC Watchdog Violation was first observed in Windows 8 operating system and the same violation is repeated in Windows 10. It is one of the most frustrating problems in Windows 10 and it can be really clueless for novices. It just says "Your computer will restart in 10 seconds". Generally, these watchdog errors occur when a specific hardware or software fails to function in the way it should be functioning. So let's check out the working ways to permanently solve this error or at least try to fix this issue for the time being.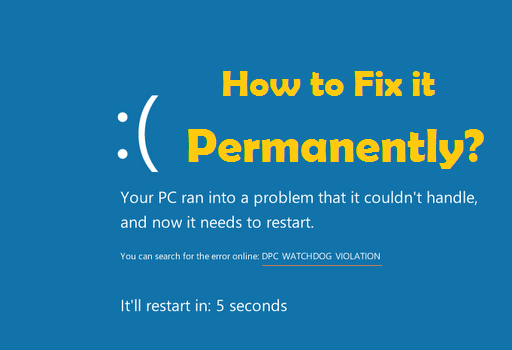 What is DPC WATCHDOG VIOLATION?
"Knowing is Half the Battle"
The full form of DPC is Deferred Procedure Call. Watchdog is a mechanism in an operating system which ensures that the software and hardware are functioning properly. If there's any issue or problem with the mechanism or it's working then the DPC Watchdog Violation error pops up with the Error Code as "DPC_WATCHDOG_VIOLATION".
What are the Causes of "DPC_Watchdog_Violation" Error?
One of the common causes of DPC Watchdog Violation is the outdated firmware version of the SSD drivers. This error also pops up when any of your hardware drivers are outdated. Suppose, if you have installed a new hardware like a sound card or an SSD drive to your computer and you are haven't updated the firmware you may most like see a BSOD DPC Watchdog error your screen. For some users, the screen shows up this error for every 5 minutes. It displays errors like "Bug check value = 0x00000133" etc. You need not worry if you are seeing this error very frequently on your computer screen. There are some simple ways to fix DPC Watchdog Violation error in Windows 10 computer.
How to Stop DPC Watchdog Violation Error in Windows 10?
You need not worry if you are seeing this error very frequently on your computer screen. There are some simple ways to fix DPC Watchdog Violation error in Windows 10, 8 or 7 Computer. These ways and methods are also applicable in Windows 8 and 8.1. Outdated hardware drivers are the main reason for DPC Watchdog Violation. We must fix the drivers to fix this error on your computer. Follow the instructions to fix the DPC Watchdog Violation on your Windows computer.
Simple Steps to Fix or Solve DPC_Watchdog_Violation Code in Windows 10, 8, 7:

Step – 1: Press "Windows Key + X" and Select Device Manager to open up Device Manager.
Step – 2: Go to IDE ATA/ATAPI Controllers and expand it. (Just click on the arrowed bullet to expand it)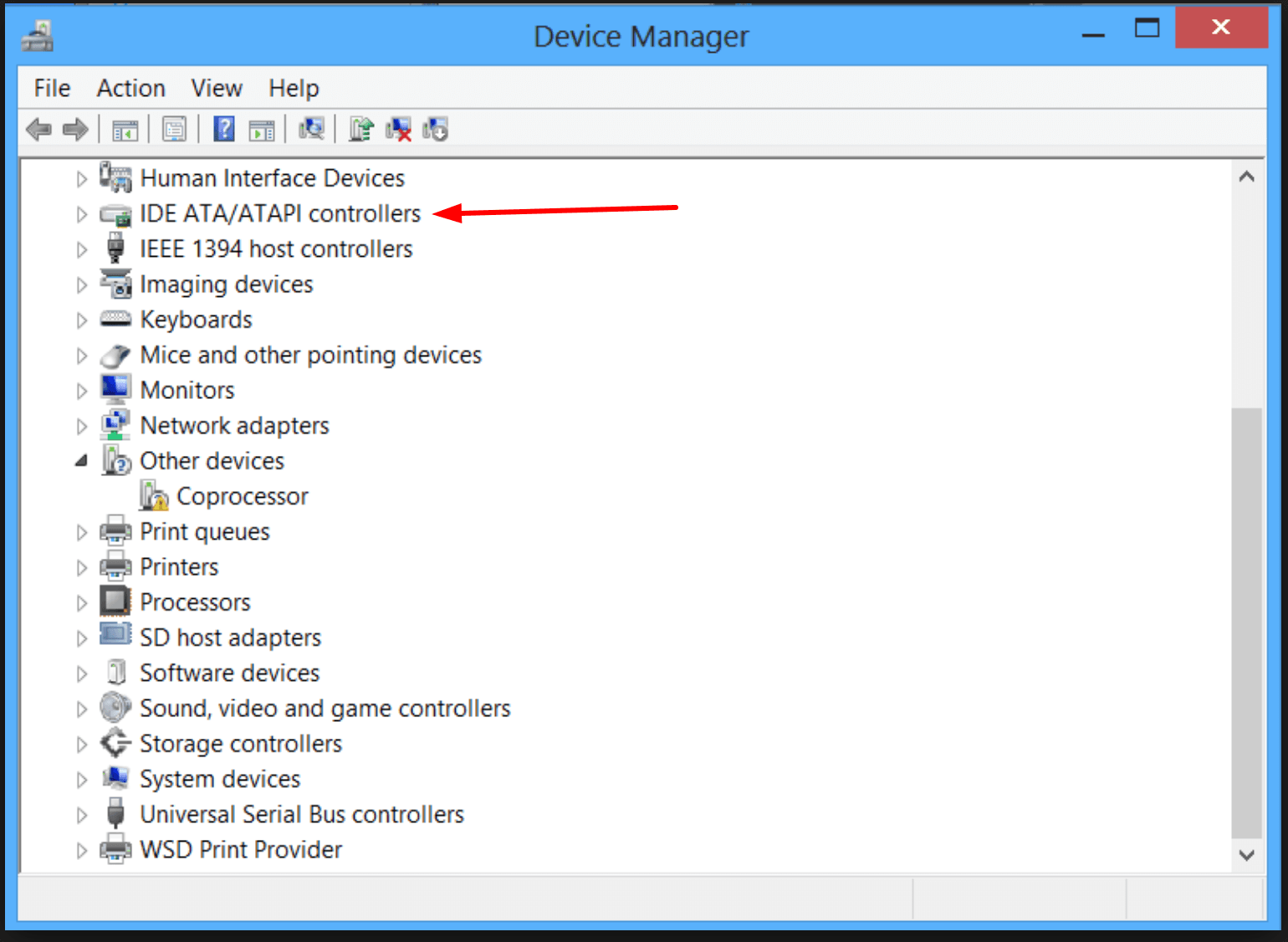 There you'll see "STANDARD SATA AHCI CONTROLLER". You may see any name in the place of STANDARD like Intel 100 series etc.
Step – 3: Select "SATA AHCI Controller" and right click on it and Select "Properties".
Step – 4: Properties dialog window opens up. Navigate to "Driver" tab. Click on the "Driver Details" button.
Check if you see an "iaStorA.sys" driver listed there. If it's listed then we will update it.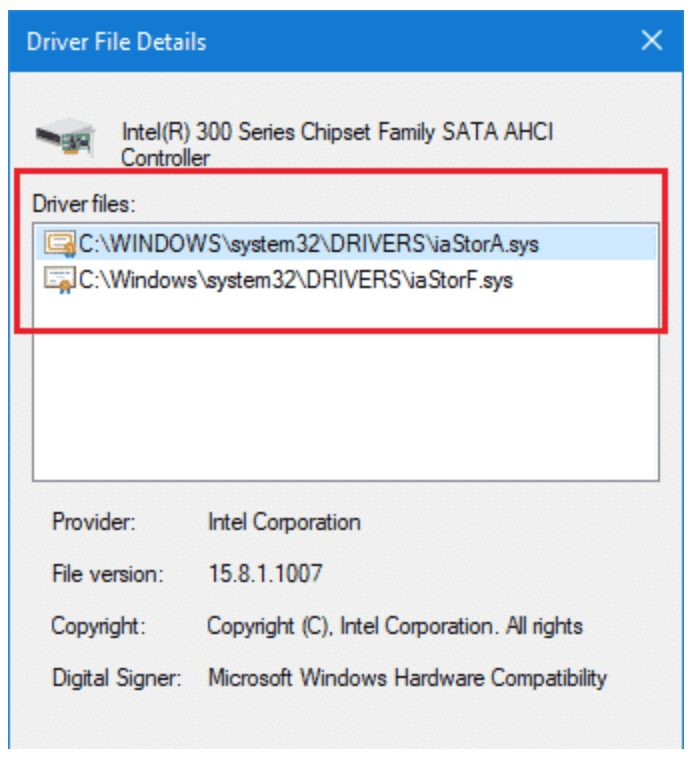 Step – 5: Now close this Driver Details Window and come back to the Driver Properties Windows under Driver tab and Click on "Update Drivers" button.
Step 6: Select "Browse my computer for device driver".
Step – 7: Now choose the option "Let me pick from a list of available drivers on my computer".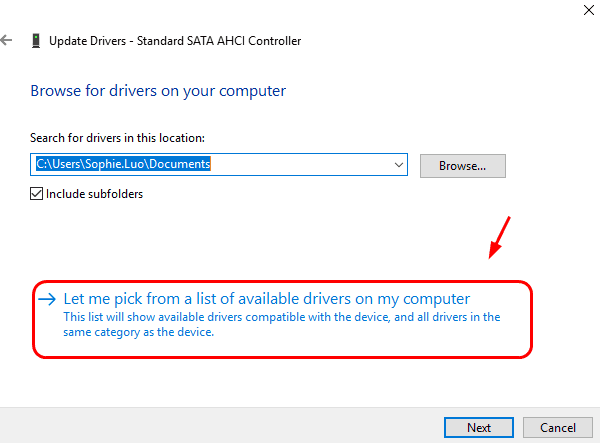 Step – 8: Your computer will be scanned for the Updates and within few seconds, you'll see list of available drivers. Tap on "Standard SATA AHCI CONTROLLER" in the box. Select it and then Press Next. It will install the driver updates.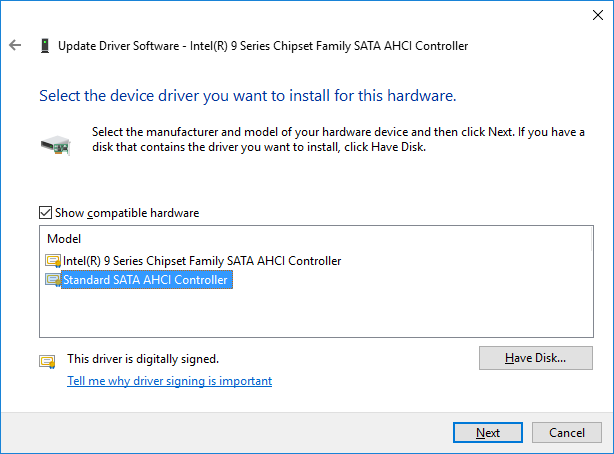 Step – 9: That's it. Your Selected Drivers were installed successfully. Now just restart the system for the changes to take effect.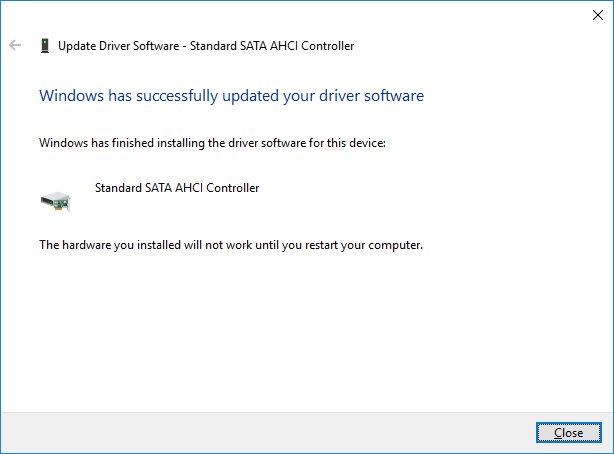 With the above instructions, we have updated Chipset drivers on the computer. So, this helps to resolve the DPC Watchdog Violation in most cases. If the problem still persists on your computer, you need to check if all the hardware drivers are updated in the Device Manager. DPC Watchdog Violation occurs when the hardware drivers are outdated.
Now if your system keeps showing this Blue Screen of Death again and again then you won't be able to perform the above fix easily. So in that case, we can boot the system in safe mode and apply some fixes. Let's see how?
ALSO CHECK – 7 Working Methods to Fix ERR CONNECTION REFUSED Error
How to fix DPC_WATCHDOG_VIOLATION from Safe Mode?
Sometimes, it can be difficult to update these drivers because of the error popping up every five minutes. Then it is recommended to boot into safe mode to resolve the issue. Follow the below instructions to fix the DPC_WATCHDOG_VIOLATION using Safe Mode.
Press "Windows Key + R" key simultaneously to open the Run dialog.
Type the given command in Run window and Press Enter.

msconfig

Go to "Boot" tab. Under "Boot options", select "Safe boot" and make sure the "Network" option is checked. And then Click on OK button.

Restart your computer. Now your computer is in safe mode.

Now you can follow the above guide to Update the Drivers. The safe mode will save your system from any hurdles that come to the way. So you won't notice DPC_WATCHDOG_VIOLATION Error while you are in safe mode.
Apply the above solution quickly and then you can boot again in Normal mode.
These would definitely fix the DPC Watchdog error on your computer. However, if they still persist, you need to try the quick and short possible tips listed below.
Additional Tips to Fix BSOD Errors
Tip – 1: Disable the antivirus or firewalls which you have installed for some time. Sometimes, the antivirus are the reason for the BSOD errors.
CHECKOUT – How to Completely Remove Avast SafeZone Browser or Remove Avast SafePrice?
Tip – 2: Keep your Windows Up to Date. If you deactivate the updates for a longer time, you see these kinds of errors.
Tip – 3: If you are not sure which driver is causing this issue on your computer then Download WhoCrashed software and install it. Who Crashed software helps you to find out the drivers which are responsible for the computer crash.
Tip – 4: BlueScreenView is also another utility which helps to find out problematic drivers. Download it and find the culprit drivers. You just need to update those drivers to fix DPC Watchdog Violation errors on your computer.
Tip – 5: Keep the Hardware drivers up to date. You can try Software like Driver Easy or Driver Talent to Quickly Update any Drivers.
Tip – 6: Eject the external drives and devices properly.
Tip – 7: Don't force shutdown computer anytime. Wait until the System is off completely.
Tip – 8: Final tip, Re-install Windows and this should fix the DPC Watchdog Violation Error Permanently.
---
Google Chrome Error Fixes:
Wrapping up…
These tips and the fixes may help you to avoid BSOD or DPC WATCHDOG VIOLATION Errors on your computer. In case of DPC Watchdog Violation, Windows 8, 8.1 and 10 Operating Systems are not compatible with iastor.sys driver. So, we updated the drivers to Standard SATA AHCI Controller which is completely compatible with Windows 10.  We hope this comprehensive guide helped you fix the DPC_Watchdog_Violation or Blue Screen of Death (BSOD) Errors in Windows 10 or Older Versions Computer. You may comment below if you are facing problems in following the fixes. Thank you! 🙂