google.com, pub-4369500551042693, DIRECT, f08c47fec0942fa0
You want to play your favorite games on PS4 but, suddenly you find out that your controller has no charge. So, you plug your controller with the USB Cable for charging but unfortunately it is not charging. Don't worry you are not the only one facing this problem. Many gamers reported that their Play Station controller is not charging. Now, before you go out to buy a new Controller try the solutions or fixes given below first. Read this article till the end to know how you can fix the PS4 Controller Not Charging problem easily.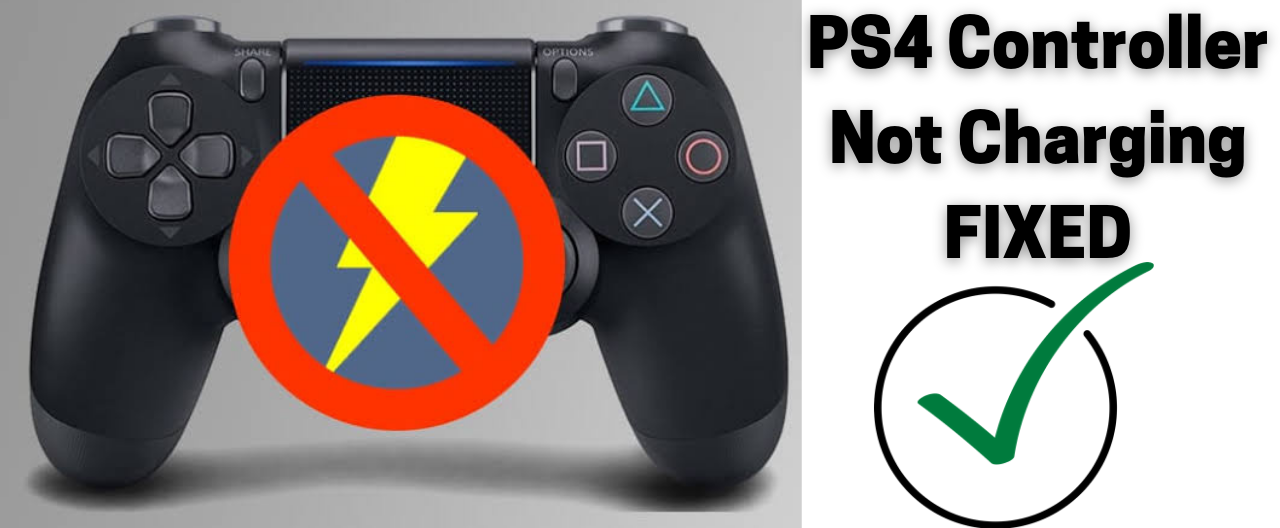 Method 1: Perform a Power Cycling on your PS4
If your PS4 console is in the error state then you can face the PS4 controller not charging no light issue. To solve this problem you can try performing Power Cycling on your PS4. Follow the steps given below:
Turn off your PS4 System and Controller completely.
Remove the PS4's power cord from the outlet and wait for 5-10 minutes.
While your PS4 is still unplugged you need to press the power button for few seconds to drain out all the leftover energy.
Turn on your PS4 back and see if now you can charge the controller or not.
MUST READ – How to Use PS4 Controller on PC?
---
Method 2: Reset your PS4 Controller
Many users find this solution useful. Your PS4 Controller Not Charging Issue may be caused by the malfunctioned controller. To fix this you need to reset the controller.
First, go to your PS4 Settings.
Under the Devices section, you need to remove all the controllers from the list
Now, you need to find the Reset Button.
The Reset Button is a very small hole that is available on the back of your controller under the L2 button.
To reset the controller you need to press this button for few seconds and then release it. Put a small pin or toothpick inside the hole to press it.
Your PS4 Controller will restart.
Check if the problem still exists.
---
Method 3: Check the Charging Cable
There is a high chance that maybe your Controller is absolutely fine. But, the problem is with the charging cable. To check if there is some problem with your charging cable try to charge another controller with the same charging cable. If another controller also does not charge then there is some problem with your USB Charging Cable. Buy a new one that is compatible with your PS4. If there is fraying on the cord then your charging cable is damaged. If you are not using the original charging cable which came with your PS4 then also your controller won't charge. Buy an original one from Sony.
ALSO CHECK – How to Enable Virtualization (VT) in Windows 10?
---
Method 4: Check the PS4 Controller Charging Port
Apart from the damaged charging cable, a faulty charging port can also cause you this problem. If there is any dust in the charging port clean it and try Charging. If you have another controller then try charging it with the same USB cable. If the new controller is charging then there some issue with the charging port of the not charging controller. Buy a new Controller.
---
Method 5: Try Charging your Controller Upside Down
This solution might seem stupid or weird to you but it's worth trying. Many gamers were able to charge their controller using this method. Plugin the USB Cable in your Controller and place it upside down against the wall. Wait for few minutes and your controller should start charging.
YOU MAY ALSO LIKE – How to Quickly Fix Steam Friends Network Unreachable Error?
---
Method 6: Plug your Charger into a Laptop
Sometimes, the controller finds it difficult to charge directly from the PS4 itself. In this scenario, you can try plugging your controller into a laptop. If the controller is still not charging then you need to buy a new Controller. On the other hand, if it is charging then there is some problem with your PS4. Visit a Professional Technician near you to fix this problem.
---
Method 7: Replace the Batteries of your PS4 Controller
If still, you are facing this problem then we highly recommend you replace the batteries of your PS4 Controller. The batteries of your controller lose their charges and die if you use them for a long period of time. So, you need to replace the batteries to fix the PS4 Controller not turning on problem.
ALSO CHECK – How to Fix CS:GO VAC Was Unable To Verify Your Game Session Error?
Concluding…
We know this can be a very frustrating problem. But, we hope that one of the methods which are mentioned above must have helped you. You can tell us in the comments section which mentioned was effective for you. Also, if you have faced any other problem on your PS4 write it in the comments section. We will surely help you out. Do tell on which topic you want us to write next article.