google.com, pub-4369500551042693, DIRECT, f08c47fec0942fa0
While playing games on Play Station 4 if you have encountered the Error Code CE-34878-0 then this article is for you. Due to this error, the game or application crashes. We have noticed that this error usually happens in games like Spider-Man, FIFA, Fortnite, Call of Duty: Black Ops 4 and Red Dead Online. Unfortunately, even we faced this issue and found out some solutions for it. Below, we have mentioned effective solutions for PS4 Error Code CE-34878-0.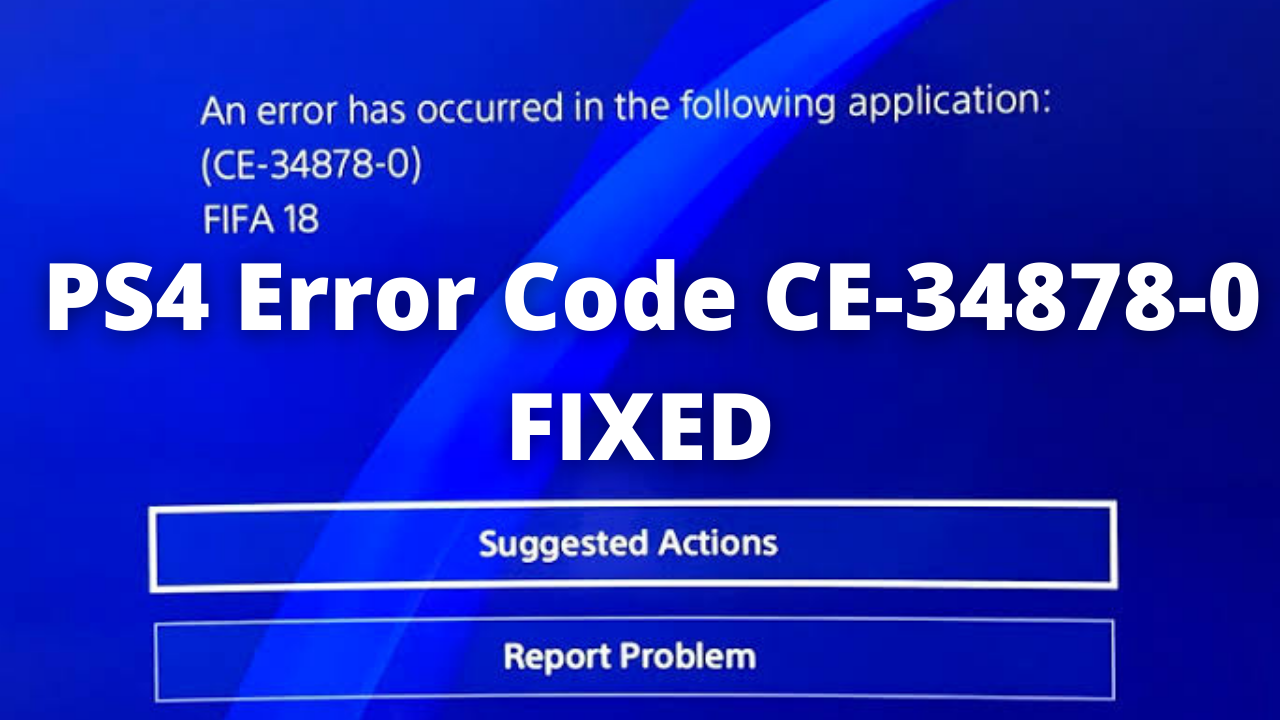 Causes of PS4 Error Code CE-34878-0
Before, we tell you the solutions it's important to first diagnose what is causing you this problem. In this way, you can apply the appropriate solution for this problem.
After turning on your PS4 if you immediately get this error as soon as the home screen loads up then you need to format the internal hard drive or Initialize PS4.
If it happens while playing games or movies there is some problem with your PS4 graphics card.
If you get this error only with games that are installed on an external hard drive then it means the external hard drive is defective.
When playing games online if you get this error then your internet connection might have got interrupted. A sudden power surge can also cause this problem. Although, this will happen only once and won't happen again.
CHECKOUT – How to Quickly Fix Steam Friends Network Unreachable Error?
Method 1: Restart PS4 System and Controller
This is a very simple solution but, it might help you to resolve this problem. Most of the time restarting PS4 fixes all the errors and bugs. Turn off your PS4 console and its controller completely. Turn it back on again and open the game in which you faced this problem. 
---
Method 2: Update the Game
A problem within the Game can also cause you this error. To resolve this, you need to first check if there are any updates available for the game. Now, to update the game there are two methods. One is to update the game from the PS4 Settings. Another one is to uninstall and reinstall the game. Follow the steps given below:
Hop over to the PlayStation Home Screen.
Highlight the game in which you are facing this problem.
On your PS4 Controller press the Option Button and from the drop-down menu select Check for Update.
Follow the on-screen instructions to download and install the game Updates.
After installing the updates Restart your PS4. Check if the problem still exists.
Reinstall Your Game:
After updating the game from the settings if still the problem exists then follow the steps given below:
Before uninstalling the game first, you need to back up your game data.
To do this hop over to the PS4 Settings and then go to Application Saved Data Management.
To save the game data there are two methods. Hit the Saved Data in System Storage Option to save the data within the PS4 system. Select Saved Data on USB Storage Device option if you want to store the data in a USB drive connected to your PS4.
Follow the on-screen instructions to save the game.
After saving the game go to PS4 Settings again and then go to System Storage Management.
Now, go to Applications.
Select the game and press the Option Button.
From the Menu Choose Delete.
After deleting the game Reinstall the game on your system.
ALSO CHECK – How to Fix PUBG Mobile Lag in Gameloop Emulator?
---
Method 3: Turn Off Face Recognition
Most gamers use the PS camera to enhance their gaming experience. But, this can also lead to the Error Code CE-34878-0. If after connecting the camera you are facing this problem then remove it and restart your PS4. Also, you need to disable the face recognition feature.
To remove the PS camera go to PS4 Settings then Devices and then Turn off Device.
Select the camera and then Restart your PS4.
Now, again go to Settings then User and then Login Settings.
Uncheck the  Enable Face Recognition option and now your problem should get resolved.
---
Method 4: Update the PS4 System Software 
You might be getting the 'An error has occurred in the following application (ce-34878-0)' popup on your screen due to the system software issue. Updating your PS4 System can fix this problem.
Connect to the Internet and then hop over to the PS4 home screen.
Go to Settings and then select System Software Update from the list.
Check if there are any updates available.
If there is any update select Next and then Update to download the updates.
Once the updates are downloaded you will get a popup window.
Go to the PS4 Home Screen again.
Now, go to Notifications and then Downloads.
Follow the on-screen instructions to install the update.
Open the game once again and see if it works now.
YOU MAY ALSO LIKE – PS4 Controller Not Charging? Try these quick fixes!
---
Method 5: Disable All Mods
Apart from the amazing features the Mods bring, it also triggers a lot of errors. Mods can also bring the Error Code CE-34878-0. Many gamers said that removing all the mods helped them to resolve this problem. Give this one a try and maybe you will resolve this error.
---
Method 6: Re-Install the Original Hard Drive
If you have replaced the Original Hard Drive with a Hard Disc Drive (HDD) and faced this problem then you need to Re-install the Original Hard Drive back. I know you will ask how a larger and more powerful hard drive create any problem? But, the presence of bad sectors can lead to Error Code CE-34878-0. Before reinstalling the Hard Drive you first need to create Back Up the data.
Insert the USB Storage Device onto your PS4 System.
Now, follow this thread: Settings > System > Back Up and Restore.
Give a name to your Backup.
Once done you need to highlight Back-Up and the press X button.
Wait for some time until the process is done.
Install the original Hard Drive and now try playing the game.
MUST READ – How to Use PS4 Controller on PC? – 4 Quickest Working Methods
---
Method 7: Rebuild PS4 Database
Rebuilding the PS4 Database can also help you to get rid of this error. See, the process is very easy to implement but it will take few hours though.
Turn off your PS4 Completely. Don't keep it in the Rest Mode.
Once the PS4 is completely off you need to press and hold the power button.
Release the power button once you hear the two beeps. You will hear the first beep when you initially press the power button. The second beep seven seconds later. PS4 will now boot into Safe Mode.
Connect the Controller with a USB Cable to your PS4. After connecting it press the PS Button on your Controller.
Hit the Rebuild Database option.
---
Method 8: Initialize your PS4
Only perform this method if you have done all the methods which are mentioned above and still you are getting the Error Code CE-34878-0. Initialization completely deletes all the saved settings, applications, and games. Once all these things are deleted you won't be able to recover them back again. Initialization is mostly used when there is some glitch or error on PS4 particularly while booting up. It is also used when you want to simply delete all your data in your PS4. This method will surely help you to get rid of this error permanently.
(During Initialization don't turn off your PS4. This can cause serious damage to the System)
Back up all the data Properly. You can search on Google to find the best method according to to your requirements.
Once you have backed up everything go to your PS4 Settings.
Then go to Initialization and then select the Initialize PS4 Option.
Select the Full initialization option.
Follow the on-screen instructions to solve this problem.
Once the process is done, restore all the backup data and also all your games.
Now, you shouldn't see this error.
READ THIS – Trick to Get Netflix Free Trial without Credit Card – [5 Methods]
---
Method 9: Call Sony Support
If still, the error exists then unfortunately we don't have any other solutions to help you out. Your last option is to contact Sony Support or visit a Professional near you to fix this problem. Maybe you need to send PS4 for repairing. The Technician will tell you the exact reason behind this error. If your PS4 is under warranty and if you are lucky then you can get a replacement for it.

Concluding…
We have mentioned all the solutions to fix the Error Code CE-34878-0 in detail. We hope that one of the methods from this list would have surely helped you. Do tell us in the comments section which method helped you in resolving this frustrating error. Also, if you know any other method to solve this problem do write in the comments section. This will help other people. In case you found any step confusing you can write your query in the comments and we will surely reach out to you.